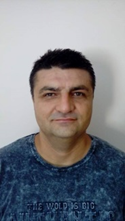 EMAIL: dpp@redcross.org.mk
RDRT and ERU Member. In 1999 assigned to work in camp Blace and camp Stenkovec during the refugee crisis in Kosovo.
In 2001 during the crisis in Macedonia took part of the WATSAN team deployed on a mission to provide water for the hospital in Kumanovo
In 2002 took part of IFRC in working with refugees in collective centers in Katlanovo and Shuto Orizari. Also participated in international mission with WATSAN in Indonesia. Since 2003 became part of the Disaster preparedness program, working on databases and DRR projects.
Attended and organized numerous national or international workshops, trainings, simulation exercises in the area of disaster management. Actively involved in coordination and humanitarian assistance of disasters that affected Macedonia in the last decade such as floods, fires, heavy snow falls and DREF and Appeal operations. Trainer in the Disaster preparedness program in MRC for Field assessment, logistics and humanitarian aid, DRR, Hygiene promotion, Risk assessment, Disaster preparedness and response, WATSAN.