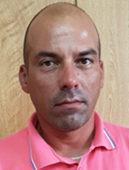 EMAIL: mpopov320@gmail.com
Bachelor Degree
Professor of Defense and Protection
Junior associate for preparations in defense, protection and rescue and crisis management.
Appointed as Chief of the Municipal Headquarters for Protection and Rescue with completed training for the work of the Headquarters in times of crisis.
Participation in the preparation of the planning documents for protection and rescue and responsible for the deployment and handling of the plans.
Participation in extinguishing fires and remedying the consequences of flooding.