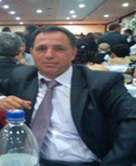 EMAIL: donco_tusev@hotmail.com
Independent officer for communal affairs, prevention and dealing with crisis situation and protection and rescue
Higher Agricultural School
– Extensive experience in the field of communal activity especially in the protection and rescue in the municipality Konche through the Center for Crisis Management and the Directorate for Protection and Rescue;
– Preparation of an assessment of the endangerment of the territory of the municipality of Konche from natural disasters through the preparation of a Plan for protection and rescue.
– Active participation in dealing with natural disasters such as floods in the municipality of Konche in 2008, 2009, 2013 and 2015, where, with the help of volunteers, they managed to cope with the challenges and damages that arose, including human losses as well.
– As a coordinator of the Territorial Fire Unit from Konche, he conducts trainings, prepares and keeps records of available human and material resources.