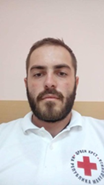 EMAIL: stojanoski@redcross.org.mk
Assistant in Disaster preparedness programme
Enrolled at University Studies
Student on Faculty for Geography – Geographical information systems
Volunteering for the Macedonian Red Cross disaster preparedness programme for over 6 years. From 2011 took part in the National disaster response team, paramedic trained from the military medical center in Skopje, Military hospital, 6 years lifeguard,
Attended numerous national and international workshops and trainings for WATSAN, VCA, Logistics, Hygiene promotion, simulation exercises in the area of disaster management ( IPA CAMPEX – team leader of Macedonian Red Cross, Regional Exercise in Bulgaria. From 2012 actively involved in numerous disaster responses for floods, snow waves, forest fires, migrant crisis (part of a mobile team).
Coordinator/assistant of DREF operations for floods in 2016 and cold waves in Macedonia responsible for humanitarian aid, distribution, plan of action. Trainer in the Disaster preparedness program in MRC for Field assessment, logistics and humanitarian aid, DRR, Hygiene promotion, Risk assessment, Disaster preparedness and response.